Our business ethics
Accountability: a strong point
SICIM's business model is based on a structured governance system rooted in our values and principles of doing business. We work responsibly in accordance with the Ten Principles of the United Nations Global Compact wherever we are present. We are able to extend and bring our values to all different countries where we operate, integrating and valuing the differences of more than forty nationalities that make up our workforce.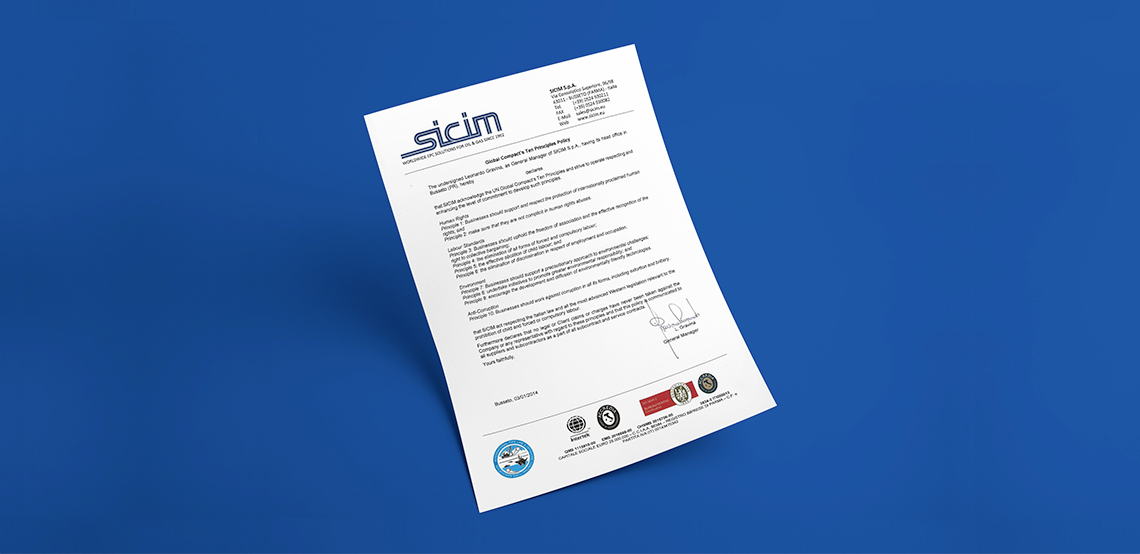 Human Rights
I

Businesses should support and respect the protection of internationally proclaimed human rights;

II

Make sure that they are not complicit in human rights abuses.
Labour Standards
III

Businesses should uphold the freedom of association and the effective recognition of the right to collective bargaining;

IV

The elimination of all forms of forced and compulsory labour;

V

The effective abolition of child labour;

VI

The elimination of discrimination in respect of employment and occupation.
Environment
VII

Businesses should support a precautionary approach to environmental challenges;

VIII

Undertake initiatives to promote greater environmental responsibility;

IX

Encourage the development and diffusion of environmentally friendly technologies.
Anti-Corruption
X

Businesses should work against corruption in all its forms, including extortion and bribery.
SICIM acknowledge the UN Global Compact's Ten Principles and strive to operate respecting and enhancing the level of commitment to develop such principles.
An active contribution
Along the entire value chain
Operating in the international market, we are aware of the contribution that each of us can concretely make to the promotion of a culture of corporate social responsibility in the geographical area where we do business. We intend to advocate the principles of transparency and integrity on which SICIM's identity is based and to actively contribute
to the observance of human, work and environmental rights and the fight against corruption through the value of setting an example and by disseminating these values along the entire value chain. All reference documents, internal policies and codes of conduct adopted by SICIM are based on these principles.
Each of us, regardless of the job position or of the operational geographical area, is both its guardian and promoter. In choosing its partners, SICIM is committed to applying these same requirements of honesty and respect.